AnyThing ThaT sTarTs wiTh ... "ammo" --- could be bad.
Libertarian Party Presidential Candidate Praises Company For Firing Woman Who Posted "All Lives Matter" on Facebook
John Cleese: Woke People Have "Zero Sense Of Humour"; They're Killing Comedy
Survey: Americans Think Coronavirus Has Killed 30 Million People in the U.S., 225 Times Higher Than Actual Figure
Billionaire media maven Oprah encourages white people to admit that they are racist in bizarre video
Kindergarten Cop Is Canceled, Likened to Birth of a Nation
The "Wokest" Company In Silicon Valley
Be "Perfect Victim," "Do As They Say": Minneapolis Govt Advises Citizens To Surrender to Criminals, Turn Over Your Valuables, Don't Resist
Heavy Rain🌨🌨 and ⚡Thunder⚡ in the Farmhouse-Rain Storm Deep in the FOREST-Sleep-Study-Relax
Jeffry Epsteins Little black book
Is Jeffrey Epstein's Zorro Ranch Insulated?
Police Body Cam Video Shows Belligerent George Floyd on Drugs Resisting Arrest Before Death
Minneapolis City Government Urges for Victims to Submit to Criminals as They Defund the Police
Met Police destroyed records for the night Prince Andrew allegedly had sex with teenager in London, says former Royal protection officer
Crybaby twit Zippy Lomax, 44, cries about police smashing windows and slashing her tires
Question for Gatlin the retard
ROCKING THE BOAT Uniformed Navy sailor caught on video screaming 'f**k Trump' at anti-mask protesters in California
'We don't need someone distracted with Twitter': Ilhan Omar fights off tough primary challenge
Oregon's Youngest Coronavirus Victim Tested Negative for the Virus
Chicago-Area Leaders Call for Illinois to Eliminate History Classes
These 'Inconvenient' Data Patterns Destroy the Established Coronavirus Narrative
Hollywood Celebrities and the Covid-19 Fear Campaign
Actor Wilford Brimley Dies At 85
WATCH: Arrest turns into BRAWL when anti-cop 'protesters' attack at 'Back the Blue' rally, feds SWARM
New Jersey gym owners squaring off with Gov. Murphy kick down the barricades at entrance
NY Bar Says Liquor License Suspended Over "F*CK CUOMO" Menu
Comrade Fauci: 'There's No Inconsistency' in Closing Churches and Businesses, But Allowing Mass Protests
The Mortality Reporting in the MSM Related to the Coronavirus Is Overstated and Needs to be Audited – Death Rates Are Going Down Not Up
What the MSM Was Afraid to Tell You
Next-level protection: Anti-Covid HELMET uses space technologies to stop virus in its tracks
Female Staples customer throws woman with a cane to the floor, breaking her leg, after being told to socially distance
One More Reason to Wear a Mask: You'll Get Less Sick From COVID-19
AOC on Statue of Catholic Saint In Capitol Building: This Is What 'White Supremacist Culture Looks Like!'
The Best Face Masks For You From Top Outdoor Gear Specialists
Graduates Demand West Point Surrender to Moonbattery
Republican Voters Have Come Around on Masks
Woman Triggered Over Confederate Flag Towel Gets Schooled By Black Military Vet
Portland Rioters Care So Much About George Floyd, They're Burning Bibles
Red Flags Soar As Big Pharma Will Be Exempt From COVID-19 Vaccine Liability Claims
Dr. Anthony Fauci's baseball cards sold out in one day — now they are listed for as much as $9,995 on eBay
Amazon still selling merchandise for far-right groups with 'a track record of violence'
Founding Fathers Strapped Down In Graves To Prevent Further Spinning
Dr. Fauci Recommends Encasing Your Entire Body In Bubble Wrap To Protect Against Coronavirus
'We Are Living In A Fascistic Nightmare!' Screams Rioter Given Free Rein To Do Anything He Pleases On Streets Of Portland For Weeks
You Can Now Be Fined, Jailed and Assaulted For Not Wearing A Mask (And Other Tyrannical Weekly News)
COVID19, The Great Reset & The New Normal
UN Officials Cite Study That Finds Lockdowns, School Closures KILLING More Children Than COVID
Peaceful Protesters Wage War Against Every Law Abiding Citizen In America
'It's like a prison for kids': Parents blast Florida school district's video showing 'apocalyptic' reopened classrooms with teachers in shields and lab coats as schools across the US make similar preparations
---
Status: Not Logged In; Sign In
United States News
See other United States News Articles
Title: Trump rips Redskins, Indians for eyeing name changes to be 'politically correct'
Source: Signs of The Times/NY Post
URL Source: https://www.sott.net/article/437688 ... nges-to-be-politically-correct
Published: Jul 7, 2020
Author: Bob Fredericks
Post Date: 2020-07-07 15:58:09 by Deckard
Keywords: None
Views: 18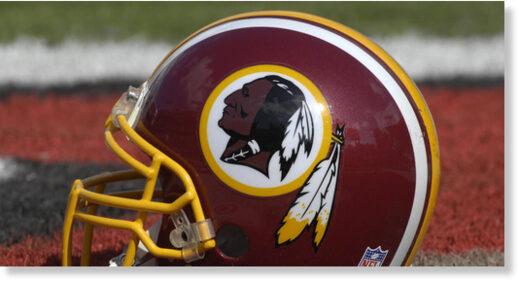 "They name teams out of STRENGTH, not weakness, but now the Washington Redskins & Cleveland Indians, two fabled sports franchises, look like they are going to be changing their names in order to be politically correct. Indians, like Elizabeth Warren, must be very angry right now!" Trump tweeted.

The Redskins, who have long faced criticism from Native American groups and others, said last week it would consider a name change.

Nike appeared to have pulled Redskins merchandise off its website after FedEx — the company whose name is on the arena where the team plays — publicly called on the franchise to change its name, putting increasing pressure on owner Dan Snyder, who has refused to consider a name change for years, Fox Business reported.

On Sunday, three minority owners, Robert Rothman, Dwight Schar and Fred Smith, who own a combined 40 percent of the team, said they were "not happy being a partner" with Snyder and hired an investment firm to search for potential buyers of their shares, the Washington Post reported Sunday.

The Cleveland Indians have also come under fire over the years over the team name and its logo depicting a caricature of a Native American, "Chief Wahoo."

Cleveland manager Terry Francona said Sunday he was in favor of the team changing its name, according to BleacherReport.com.

Addressing reporters during summer camp on Sunday, Francona said "it's time to move forward" with a new name.

In a statement released Friday, the team announced it was looking at other options for a name.

"We have had ongoing discussions organizationally on these issues. The recent social unrest in our community and our country has only underscored the need for us to keep improving as an organization on issues of social justice," the team said.

"With that in mind, we are committed to engaging our community and appropriate stakeholders to determine the best path forward with regard to our team name."

Trump's tweet came minutes after White House spokeswoman Kayleigh McEnany told reporters she was unaware of Trump's position on the issue.
Comment: Hysterics seem incapable of realizing that not everyone agrees with them. Or at the very least, they don't care. They just want the world to conform to their image of it, no matter how silly or unreasonable their wishes may be.
(1 image)
Post Comment Private Reply Ignore Thread
---