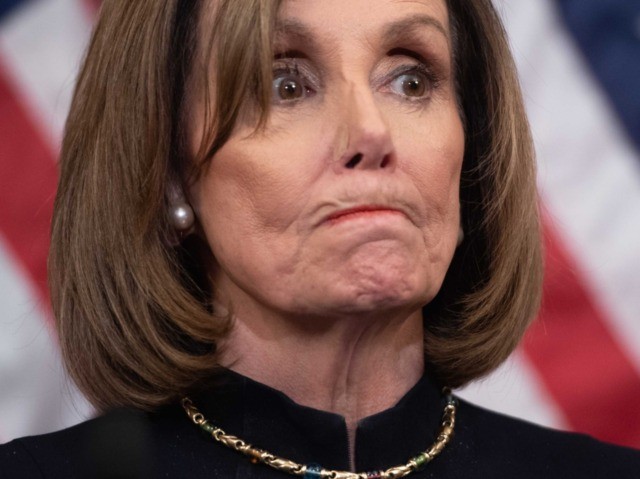 Speaker of the House Nancy Pelosi (D-CA) reacted to the successful U.S. airstrike on Iranian General Qassem Soleimani in Iraq on Thursday evening by complaining that Congress was not consulted in advance about it.
In a statement released by the Speaker's office on Thursday evening, Pelosi demanded an immediate briefing:
American leaders' highest priority is to protect American lives and interests. But we cannot put the lives of American servicemembers, diplomats and others further at risk by engaging in provocative and disproportionate actions. Tonight's airstrike risks provoking further dangerous escalation of violence. America – and the world – cannot afford to have tensions escalate to the point of no return.
The Administration has conducted tonight's strikes in Iraq targeting high-level Iranian military officials and killing Iranian Quds Force Commander Qasem Soleimani without an Authorization for Use of Military Force (AUMF) against Iran. Further, this action was taken without the consultation of the Congress.
The full Congress must be immediately briefed on this serious situation and on the next steps under consideration by the Administration, including the significant escalation of the deployment of additional troops to the region.
A spokesperson for Pelosi confirmed that she had not been notified in advance and only spoke to Secretary of Defense Mark Esper after the attack.
Speaker Pelosi spox says she spoke to Secretary of Defense Mark Esper after the Soleimani strike as no advance notification was given as statement indicated. Pelosi + Esper connected last night via text phone around 9:40pm. Call lasted 13 mins.
— Alex Moe (@AlexNBCNews) January 3, 2020
Pelosi has yet to notify the Senate formally about the impeachment of President Donald Trump — 16 days ago.
---
Poster Comment:
Our president may bluster from time to time and say what's actually on his mind, which is a good thing, but he's not a stupid man! Asking Nutsy's counsel on bombing a rabid dog to smithereens makes about as much sense as taking a pig to Sunday school.
With human feces threatening spread of disease in her district of San Fransissyco, Sugartitz can't even protect the voters in her own district, let alone the rest of the nation. Shut up and sit down, Nancy.
(1 image)