College to look into how its wasp mascot (yes, the insect) is related to systemic oppression
White couple arrested after gun pulled on black family
Police Departments Asked "Live PD" To Cut Footage That Made Cops Look Bad
The Old America Is Dead. Where Do We Go from Here?
The World Through the Eyes of a Globalist ((Twilight Zone 2020))
Now Even The COMMON COLD Is Being Counted As A Positive COVID-19 Result, CDC Says
Trump: Planned BLM mural in NYC a "symbol of hate" that would "denigrate" Fifth Avenue
The Teenage Girl Gang That Seduced and Killed Nazis
Camera off Mask off (the dickhead)
11 Redacted Seconds of Video of Fatal 2014 Drug Bust Undermine Florida Cops' Official Story
Revival with Miracles Breaks Out in Spot Where George Floyd Died in Police Custody
Tens of thousands of coronavirus tests have been double-counted, officials admit
Rand Paul Slams Fauci For Failed 'Central Planning' Approach To Pandemic Response
Car Owners Will be Forced To Breathe Into A Breathalyzer To Start Their Vehicles
Fauci's Remdesivir Costs $9 Per Dose, Will Be Sold at $3,000 per Treatment — China Company Linked to Soros Will Also Mass Produce the Drug
Golden State Killer: former police officer pleads guilty to string of murders
HospiTal LefT Quadriplegic WiTh COVID-19 ... To Die - Because He Lacked --- "QualiTy of Life"
John Bolton – Traitor to Common Decency
Fox Analyst Apologises For Saying It Takes 'Courage' To Stand For National Anthem
Chief Federal Judge in Los Angeles Resigns After Using 'Racist' Term "Street Smart"
Couple Points Guns at Defund Police Protesters Outside Home in St Louis
Mask Of The Beast And Deadly Distancing
RETRO=RICKY Plays Amiga games.
SANNITY ... JusT joined --- Parler !
Rand Paul Tries (Again!) To Make It Harder for Police To Take Your Stuff
"This is Not Seattle – We're Not Putting Up with This Lawlessness Here" – Oklahoma Judge Charges Protesters with Terrorism, Rioting and Assault
California Legislature Votes To Remove Anti-Discrimination Language From State Constitution
Maria Elvira Salazar on Twitter (Candidate for congress in Florida)
"Not Peace, but a Sword" (Sermon on Matthew 10:34-42)
Abortion is a diabolical weapon of mind control.
Global Goal: Unite for Our Future Concert (NWO propaganda programming)
Masks-for-all for COVID-19 not based on sound data
'He Should Wear Cuffs': Netizens React to Dick Cheney's Advice on Wearing Masks
Journalist Scorches California Officials for Excessive Lockdowns in Epic Speech
Woman Assaulted at BLM Protest For Holding "Police Lives Matter" Sign
Marxists Show Up to Christian Prayer Rally at St. Louis Statue, Demand Removal of Statue of Catholic Saint (VIDEOS)
Simpsonville man sues Greenville County Sheriff's Office after getting shot by deputy inside own home
Video: Washington Sheriff On Governor's Mask Law – "Don't Be A Sheep"
Maskless man faces charge of assaulting a public servant after altercation with judge who wrote mask order
Good source for an "Asp" type collapsible baton?
Tucker Carlson: Trump could well lose the election - he must defend America's institutions
List of 269 companies supporting Antifa, Black Lives Matter, the lines have been drawn
The Real Reason for the Face Diaper Mandates
Kansas State Student Flooded With Death Threats Over George Floyd Joke, School Launches Investigation Into HIM
Black Lives Matter Hate Hoaxer Shaun King Not Really Black?
Biden: 120 Million Dead from COVID-19
---
Status: Not Logged In; Sign In
International News
See other International News Articles
Title: Leaked Email Proves UN Report on Poison Gas Attack by Assad Was Falsified to Justify US Attack on Syria
Source: Signs Of The Times
URL Source: https://www.sott.net/article/424529 ... -to-Justify-US-Attack-on-Syria
Published: Nov 24, 2019
Author: Peter Hitchens
Post Date: 2019-11-24 18:18:31 by Deckard
Keywords: None
Views: 243
Comments: 4

Comment: More confirmation that the media - in concert with corrupted international bodies - habitually produces fake news to justify war crimes and support geopolitical intrigue.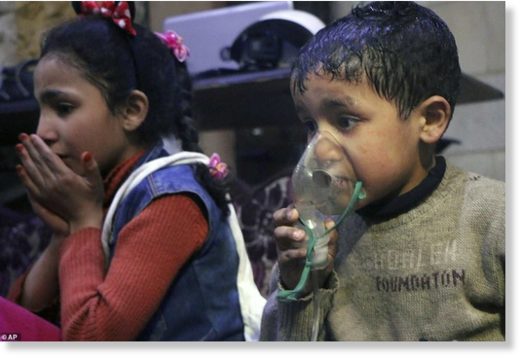 Children in Douma who are clearly not suffering from an kind of chemical poisoning but are, instead, being used as actors in a staged scene.
A leaked email last night dramatically indicated that the UN's poison gas watchdog had butchered and censored a critical report on an alleged chemical attack in Syria. If substantiated, the revelations will be severely embarrassing for Britain, France and America, which launched a massive military strike in retaliation without waiting for proof that chemical weapons had actually been used.

Unconfirmed reports and videos, showing the corpses of adults and children foaming at the mouth in Douma, a suburb of Damascus, shocked the world in April 2018 and led to a joint Western attack on the supposed culprit, Syria, in which more than 100 missiles, including nearly 70 Tomahawk cruise missiles, were fired.

Although the reports and films could not be independently verified, as the alleged events took place in a war zone then under the control of brutal Islamist militants, Western governments, and many Western media, took them at face value.

President Donald Trump tweeted at the time: 'Many dead, including women and children, in mindless CHEMICAL attack in Syria. Area of atrocity is in lockdown and encircled by Syrian Army, making it completely inaccessible to outside world. President Putin, Russia and Iran are responsible for backing Animal Assad. Big price to pay. Open area immediately for medical help and verification. Another humanitarian disaster for no reason whatsoever. SICK!'

Comment: At the time, anyone with any sense and even a modicum of understanding of Western government tactics understood that the hysterical allegations by those same Western governments and their compliant media outlets that Assad had "bombed his own people" were complete and utter nonsense. Unfortunately, few people in the Western world appear to have much sense or understanding of anything other than that which they receive from their governments and media.

At this point, the bogus narrative that "Assad is a brutal dictator" has been successfully embedded in the minds of people the world over, and it is highly unlikely that this leaked information will do anything to change that narrative. That is, after all, how lies and propaganda work.
Britain's then Premier, Theresa May, was equally confident of her facts, saying after the missile launch: 'Last Saturday up to 75 people, including young children, were killed in a despicable and barbaric attack in Douma, with as many as 500 further casualties. We have worked with our allies to establish what happened.

'And all the indications are that this was a chemical weapons attack ... We are also clear about who was responsible for this atrocity. A significant body of information including intelligence indicates the Syrian regime is responsible for this latest attack.'

But a dissenting scientist, employed by the Organisation for the Prohibition of Chemical Weapons (OPCW) says in a leaked email that investigations on the ground at Douma have produced no hard evidence that the alleged gas attack took place.

It appears that these facts were deliberately suppressed in published OPCW reports.

The email makes no attempt to suggest what did happen in Douma. It simply points out that hard evidence, gathered and examined by non-political scientists, does not support the officially endorsed version. And it claims that this resulted in the OPCW redacting the report to the extent that its conclusions were misrepresented.

The revelation appears to be the worst instance of 'sexing-up' in support of war since the invasion of Iraq and Tony Blair's doctored dossiers. A whistleblower has made public the astonishing email of protest which was sent to senior officials at the OPCW. It says that the independent scientists' official report on the Douma incident had been slashed and censored so severely that it:
Misrepresented the facts - by leaving out key information;
Hid the fact that the traces of chlorine found on the site were merely tiny trace elements, in parts per billion, and in forms that could have been found in any household bleach;
Contained major deviations from the original report submitted by impartial experts, so that it had 'morphed into something quite different';
Suppressed a total mismatch between the symptoms allegedly displayed by victims at the scene, and the effects of the chemicals which were actually found. The symptoms seen on harrowing videos shown at the time of the incident simply did not match the symptoms which would have been caused by any material found at the site.
Mail on Sunday has seen the email of protest which one scientist at the OPCW submitted to his superiors. It refers to the original expert report from Douma which the email says was savagely censored.

This original report, if it had been published as written, would not have supported widespread claims that poison gas was used at Douma on April 7, 2018. If any such gas was used, it was not a gas known to, or detected by the scientists who visited the scene, examined the buildings and soil and carefully checked the samples.

A source has told me that the OPCW report, which was eventually published on July 7, 2018, was stripped of a vital fact at the last minute: the traces of chlorinated material which were found at the site were so small, and so easily available, that they could simply not be said to show that chlorine gas was employed.

The Mail on Sunday has also been told that, in the days before the original document was due to be published, a second report shorn of many of its most important findings was prepared behind the backs of most of the OPCW scientists.

A source inside the OPCW says that this move was discovered at the last minute. It was then met with protests from scientists, including the email sent to two senior OPCW officials, which the Mail on Sunday has seen. The source says a compromise was offered in which the truth about the tiny traces of chlorine would be told, though the report would still be heavily redacted.

The scientists accepted this. But even this promise was then broken, and a third version of the document was issued which left out the vital fact. The wording of this report was so vague that news organisations around the world concluded - incorrectly - that it said that chlorine gas had been used or might have been used. If the key material had been left in, they could not have done this.

Since then, dissenting scientists have sought for months to find a way of setting the record straight, inside the OPCW. But all their efforts have failed, leading to the leak of the email.


---
Poster Comment:
Documents at the link
(2 images)
Post Comment Private Reply Ignore Thread
---
Top

•

Page Up

•

Full Thread

•

Page Down

• Bottom/Latest
#1. To: Deckard (#0)
If substantiated
A K A Stone posted on 2019-11-24 18:50:51 ET Reply Trace Private Reply
---
#2. To: Deckard (#0)

I don't know if I believe this because of bias against prevailing professional opinion, or if I am convinced. I am about 80% sure that there was no attack by Assad, and about 60% convinced it never happened at all.

I will read this and see if this nails it one way or another.

THIS IS A TAG LINE...Exercising rights is only radical to two people, Tyrants and Slaves. Which are YOU? Our ignorance has driven us into slavery and we do not recognize it.

jeremiad posted on 2019-11-24 20:52:02 ET Reply Trace Private Reply
---
#3. To: Deckard (#0)
Comment: At the time, anyone with any sense and even a modicum of understanding of Western government tactics understood that the hysterical allegations by those same Western governments and their compliant media outlets that Assad had "bombed his own people" were complete and utter nonsense.
But we're supposed to accept as fact and without question that "a dissenting scientist, employed by the Organisation for the Prohibition of Chemical Weapons (OPCW) says in a leaked email that investigations on the ground at Douma have produced no hard evidence that the alleged gas attack took place."
misterwhite posted on 2019-11-25 9:07:24 ET Reply Trace Private Reply
---
#4. To: Deckard (#0)

If the Leftard media thought this was true they would have been all over it like flies on Obama, so more than likely this all leads back to the prior administration and consequently the reason it's gotten no play.

Vegetarians eat vegetables. Beware of humanitarians!

CZ82 posted on 2019-12-02 7:27:04 ET Reply Trace Private Reply
---
Top • Page Up • Full Thread • Page Down • Bottom/Latest