These terrorists need bullets in the head! Period!
Without Consulting Trump White House — Defense Secretary Esper Orders National Guard NOT to Carry Guns or Ammunition in Washington DC
Hypocrite Governor Gretchen Whitmer Keeps Business in Lockdown — Encourages Leftists to Protest in the Streets, Joins Them!
The Great Reset: A Unique Twin Summit to Begin 2021
Fedex Truck Driver Being Harrassed Then Ends Up Dragging Protester (hopefully the rioter is DEAD!)
Antifa Burning A Homeless Man's Possessions. This Is The Left
Video: BLM Protect Muslims So They Can Pray Safely During The Riots
Police and the Protestors (Local story)
The Shallow Deep-State Goes Deeper as It Moves Toward Martial Law
A Monument to Authoritarianism (Lincoln Memorial)
Los Angeles community members protecting business from looters handcuffed and detained
Politically Correct Playing Cards
Uber Eats Start Free Delivery From Black-Owned Restaurants
White People (Antifa) Handing Out Bricks to Black Youth (Pawns)
Buffalo Police Seriously Injure 75-Year-Old Man During Protest
The Carrie Nations: "Find It" (Obscure '60s Psych Rock from "Valley of The Dolls")
Take Your Favorite Kids To a Playground This Weekend
Free Convertible Teslas (Tesla Model 3 crashes into overturned truck on highway)
Armed Patriots patrol Coeur d'Alene
How to fight back against antifa rioters without using violence
CNN: White Children 'Don't Deserve Innocence'
Joel Osteen Joins Paula White, Tony Evans And Other High-Level Laodicean Church Hirelings To March In Solidarity With Black Lives Matter
David Dees, CT artist, 1957-2020
Leftist rioters coming for you
11 "Modern Antiques" Kids Today Have Never Seen
Tucker Carlson: This Is How Nations Collapse (a long but worthy read)
The Truth About Police Violence and Race
NBA announcer Grant Napear fired over 'All Lives Matter' comment
"WE'RE ON YOUR SIDE! WE'RE ON YOUR SIDE" Hilarious!
'He Did Not Pray': Fallout Grows From Trump's Photo-Op At St. John's Church
Israeli scientists dig up cannabis traces in ancient temple
The Epitome of Rioting Irony and Ignorance in One Tweet
George Floyd Endgame: Martial Law and a Police State
(Martial Law) "Light Em Up!" Minneapolis PD and National Guard Do A Street Sweep During Curfew
Salt Lake City cops shove down an elderly man with a cane for moving too slowly
They call him Martin Looter Kang (Looters loot from other looters to get more loot)
White People, Portland Cops Take a Knee to Ask Forgiveness For "Racism"
Trump deploys US military to restore order in Washington, DC & says he'll do the same EVERYWHERE if local govts fail
Is It One Gigantic Psy-Op? George Floyd's Coroner Was Also Jeffrey Epstein's
It Don't Make Any Damn Sense (Must Watch)
Minneapolis Rioters Attack Tanker Truck, Rip Driver Out and Beat Him, Driver arrested
New York woman attacked outside business in disturbing video as looting, rioting grip Rochester, report says
Minneapolis Police will fine, cite looters
The Pandemic Is the Right Time to Defund the Police
Teen rushed to hospital with hammer stuck in head after random attack
---
Status: Not Logged In; Sign In
Leak a document
See other Leak a document Articles
Title: Was the father of presidential hopeful Cruz involved in the JFK assassination? (Rafael Cruz, Sr.)
Source: Milfuegos
URL Source: http://milfuegos.blogspot.com/2016/ ... presidential-hopeful-cruz.html
Published: Apr 15, 2016
Author: Macu/Wayne Madsen Report
Post Date: 2016-04-15 11:32:56 by Hondo68
Keywords: Cuban Ministry of Education, Hands off Cuba 1963, Fair Play for Cuba Committee
Views: 2291
Comments: 7

Was the father of presidential hopeful Cruz involved in the JFK assassination? by Wayne Madsen Report
Previous questions have surfaced about the 1960s activities of Rafael Cruz, Sr., the father of GOP presidential hopeful Rafael Cruz, Jr. (Ted Cruz). Based on the presence of the elder Cruz, an anti-Castro activist, in Dallas and New Orleans before the November 22, 1963, assassination of President John F. Kennedy, there is a strong reason to believe that Cruz was associated with Central Intelligence Agency's anti-Castro operations.

Furthermore, a Cuban hired by alleged JFK assassin Lee Harvey Oswald and who bears a striking resemblance to Cruz is seen in an iconic photograph of Oswald and a group of Cubans Oswald hired who were distributing "Hands off Cuba!" pamphlets in New Orleans in the summer of 1963. The photo of Oswald and other Cubans he hired for the Fair Play for Cuba Committee was taken outside the International Trade Mart in New Orleans on August 16, 1963. WMR has been informed by a source that the individual to Oswald's left is none other than Rafael Cruz. The photograph at the trade mart was favorably compared to a 1957 photograph of Cruz attached to an official Cuban Ministry of Education document.


Photo of Rafael Cruz, Sr. attached to a 1957 Cuban Ministry of Education secondary education graduation certificate.



Man to Oswald's left, in center with tie, is reportedly Rafael Cruz, the father of the man who wants to be the next president of the United States. Photograph taken on August 16, 1963 outside the International Trade Mart in New Orleans.



Another view of the purported Cruz [far left].



Blown-up photo of Rafael Cruz with Fair Play for Cuba in New Orleans in 1963 [left]. Rafael Cruz today with his son at a FreedomWorks event in Salt Lake City in 2013 where Rafael Cruz falsely stated he fled Castro-led Communist Cuba [right]. What else has the elder Cruz lied about?



Someone should print this original pamphlet in color and hand it to Rafael Cruz, Sr. and ask him if he handed them out in New Orleans on August 16, 1963.

Oswald was arrested along with three Cubans on August 9, 1963, not necessarily the same Cubans he was later photographed with at the trade mart, after he got into what is considered to have been a "staged" fight with anti-Castro Cuban activist and lawyer Carlos Bringuier. Before Oswald's very public fight with Bringuier and Oswald's subsequent arrest, the ex-Marine offered to help the DRE train its commandos to fight against the Castro government in Cuba.

G. Robert Blakey, the Special Attorney at the Department of Justice in the Organized Crime and Racketeering Section from 1960 to 1964 and the chief counsel of the House Special Committee on Assassinations, affirmed that the men seen with Oswald passing out pamphlets at the trade mart on August 9 were never identified. In fact, Blakey told PBS's Frontline in 1993, "when he [Oswald] distributed the literature, one of the two people was hired. The other person we've never been able to identify."

On August 9, 1963, Oswald was found guilty of disturbing the peace and he was fined 10 dollars. It is known that Oswald worked with Bringuier and Clay Shaw in anti-Castro activities linked to the CIA. Bringuier's Student Revolutionary Directorate (DRE), an anti-Castro organization, used the same 544 Camp Street address as Oswald's Fair Play for Cuba Committee. Moreover, Bringuier had in his possession Oswald's personal copy of the book, Guidebook for Marines.

On February 11, 2016, WMR provided a history of Cruz's ties to New Orleans during the time of the CIA's and organized crime's plot to kill Kennedy:
In 1957, Rafael Cruz, a former salesman for the U.S. intelligence-linked RCA Corporation, left Cuba for the United States. Cruz claims he fought with Castro against the fascist government of Fulgencio Batista but soured on the revolution. However, Cruz left Cuba two years before the Castro revolution.

Cruz arrived in Austin where he enrolled in the University of Texas. This is a strange story since he claimed he left Cuba with only $100, which he said was sewn into his underwear. Cruz eventually gained U.S. permanent residency and a degree in mathematics from the University of Texas. In 1959, Cruz married Julia Ann Garza and, after Cruz graduated from the University of Texas in 1961, the couple moved to New Orleans from Dallas after the birth of their second daughter on November 18, 1962.

Cruz was in New Orleans during 1963, the year that New Orleans District Attorney Jim Garrison claimed his city was the focal point for the plot to assassinate President John F. Kennedy. The plot involved a number of Cuban exiles. Accused assassin Lee Harvey Oswald claimed, as part of his "fake defector" persona developed by the Central Intelligence Agency, to be a member of the pro-Castro Fair Play for Cuba Committee. The committee just happened to share an office address with Guy Banister's private investigation agency.

Guy Banister Associates was located on the ground floor of the Newman Building at 5312 Lafayette Street while Oswald's "pro-Castro" Fair Play for Cuba Committee was located around the corner but on the ground floor of the same building but with an address of 544 Camp Street. Banister was a retired FBI agent who continued to carry out tasks for the bureau and the CIA. The Newman Building housed a number of anti-Castro groups, including the Cuban Revolutionary Council, Crusade to Free Cuba Committee, the Cuban Democratic Revolutionary Front, Anti-Communist League of the Caribbean, and Friends of Democratic Cuba. While living in New Orleans, Cruz was also active with anti-Castro movements and the chances that he did not cross paths with Banister and the other anti-Castro activists, including CIA agent Sergio Arcacha Smith, are highly unlikely for such a close-knit community at the time.
While living in New Orleans with his wife and two young daughters, Cruz claimed residency at two addresses, one a low-rent apartment building off of Jackson Avenue. Cruz worked for an oil company in New Orleans. He has been less than forthcoming about the details of his time in New Orleans and the time line that included his move from Dallas.

Cruz and his wife Julia divorced in New Orleans or Dallas, allegedly in 1962 or 1963, but this detail is also clouded in mystery. Cruz apparently registered for the draft in 1967 claiming the New Orleans' Jackson Street address. Draft registration was a requirement for resident aliens like Cruz. Cruz apparently waited until the age of 28 to register for the draft, which, because he waited so long, was a criminal offense at the time. While liable for the draft and possible service in Vietnam, a country where fellow Cuban immigrant Otto Macias gladly volunteered to serve, Cruz took off for Calgary, Canada with his second wife, Eleanor Darragh. Darragh, a native of Delaware who graduated from Rice University in Houston, worked for the same oil company in New Orleans that employed Cruz. Their son, Rafael "Ted" Cruz, Jr., now a candidate for president of the United States, claims that his mother and father worked for the same company in New Orleans but there is actually no record of an Eleanor Darragh Wilson Cruz living in New Orleans at the time.

Eleanor Wilson, married to Fort Worth, Texas native Alan Wilson, lived in London from 1960 to 1966. In 1965, their infant son Michael died from crib death. Alan Wilson, who still lives in London, told McClatchy News Service that Michael was not his son. In his autobiography, Senator Ted Cruz not only claims Michael was the son or his mother and Alan but also claims the baby died in 1965. In fact, Michael, according to London vital statistics records, died in 1966 and well after the Wilsons were divorced. Eleanor Cruz, who lives in Houston, has been mum on her marriage to Wilson and her marriage to Cruz, which lasted from 1969 to 1997. Ted Cruz was born in Calgary in 1970 and there is a major question about his eligibility to serve as president since Cruz maintained Canadian citizenship until 2013.

---
Poster Comment: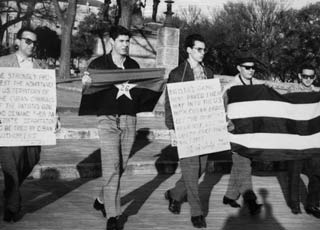 Rafael Cruz, center with sign, at UT Austin Texas 1959
(7 images)
Post Comment Private Reply Ignore Thread
---
Top

•

Page Up

•

Full Thread

•

Page Down

• Bottom/Latest
#1. To: hondo68 (#0) (Edited)
banner day for tin foil hat manufacturers . psssst Papa Cruz was the one in the grassy knoll. Before that he was the only one to escape the Bay of Pigs invasion . He also led the Watergate Break in. Sometimes JFK's ghost takes possession of Ted Cruz
"If you do not take an interest in the affairs of your government, then you are doomed to live under the rule of fools." Plato
tomder55 posted on 2016-04-15 12:15:19 ET Reply Trace Private Reply
---
#2. To: tomder55 (#1)

Stick with the lyin' Ted version then.
---
The D&R terrorists hate us because we're free, to vote second party
"We (government) need to do a lot less, a lot sooner" ~Ron Paul
Hondo68 posted on 2016-04-15 12:36:55 ET (1 image) Reply Trace Private Reply
---
#3. To: hondo68 (#0)

The more you know about thee Cruz's the less you like and trust them.

`eth yalad `eth muwth.

BobCeleste posted on 2016-04-15 12:38:34 ET Reply Trace Private Reply
---
#4. To: tomder55 (#1)

Oswald was working for US intelligence agencies, did not kill JFK or even J.D. Tippett. Tippett died because he was a dead ringer for Jack, and most likely was autopsied and photographed instead of the President in DC. Check out the pictures if you dare...

jeremiad posted on 2016-04-15 16:03:45 ET Reply Trace Private Reply
---
#5. To: hondo68 (#0)

I realize that desperation is never pretty,but this is ridiculous.

BOYCOTT PAYPAL AND CLOSE YOUR PP ACCOUNTS NOW! ENCOURAGE OTHERS TO DO SO,TOO!

ISLAM MEANS SUBMISSION!

Why is democracy held in such high esteem when it's the enemy of the minority and makes all rights relative to the dictates of the majority? (Ron Paul,2012)

American Indians had open borders. Look at how well that worked out for them.

sneakypete posted on 2016-04-15 17:34:28 ET Reply Trace Private Reply
---
#6. To: tomder55 (#1)

Israel had JFK offed. Not cubans. Not Sam Giancana. Israel.

Logsplitter posted on 2016-04-15 17:38:21 ET Reply Trace Private Reply
---
#7. To: sneakypete, tomder55 (#5) (Edited)
desperation is never pretty,but this is ridiculous.
Yes, the whole crazy story is based on some pictures of Oswald in New Orleans, bearing a slight resemblance to Rafael Cruz's student graduation pic from Cuba.
The usual Trump rubes fell for it.
---
The D&R terrorists hate us because we're free, to vote second party
"We (government) need to do a lot less, a lot sooner" ~Ron Paul
Hondo68 posted on 2016-04-15 18:10:10 ET Reply Trace Private Reply
---
Top • Page Up • Full Thread • Page Down • Bottom/Latest