It's an unusual but potentially lucrative investment: billionaire Warren Buffett is heavily invested, and his and others' success is prompting ordinary people to attend Mobile Home University, a 'boot camp' in trailer park ownership
The number one rule is stated twice, once in the classroom and once on the bus: "Don't make fun of the residents." Welcome to Mobile Home University, a three-day, $2,000 "boot camp" that teaches people from across the US how to make a fortune by buying up trailer parks.
Trailer parks are big and profitable business – particularly after hundreds of thousands of Americans who lost their homes in the financial crisis created a huge demand for affordable housing. According to US Census figures, more than 20 million people, or 6% of the population, live in trailer parks.
It is a market that has not been lost on some of the country's richest and most high-profile investors. Sam Zell's Equity LifeStyle Properties (ELS) is the largest mobile home park owner in America, with controlling interests in nearly 140,000 parks. In 2014, ELS made $777m in revenue, helping boost Zell's near-$5bn fortune.

Warren Buffett, the nation's second-richest man with a $72bn fortune, owns the biggest mobile home manufacturer in the US, Clayton Homes, and the two biggest mobile home lenders, 21st Mortgage Corporation and Vanderbilt Mortgage and Finance Company. Buffett's trailer park investments will feature heavily at his annual meeting this weekend, which will be attended by more than 40,000 shareholders in Omaha.

Such success is prompting ordinary people with little or no experience to try to follow in their footsteps.
'Don't make fun of the residents'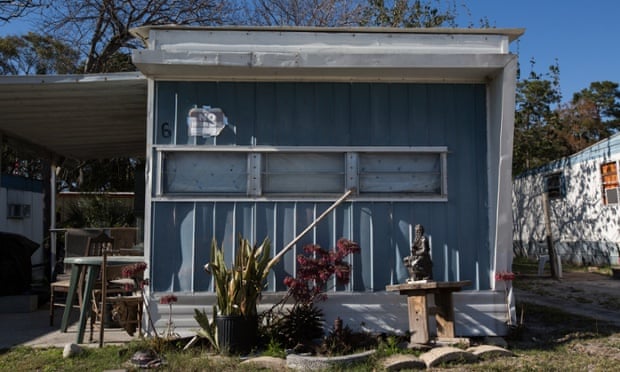 Frank Rolfe, who runs a weekend tour with his Mobile Home University showing ordinary Americans how they can follow him and make big profits from trailer parks, warns his students not to be disparaging about trailer park tenants. Photograph: Mae Ryan/the Guardian

On a bright Saturday morning, under the Floridian sun, Frank Rolfe, the multimillionaire co-founder of Mobile Home University who is the nation's 10th-biggest trailer park owner, conducts a tour of parks around Orlando, Florida. A busload of hopefuls, ranging in age from early 20s to late 70s, hangs on his every word.

As the tour approaches its first stop, Rolfe repeats a warning which earlier flashed on to a screen in a conference room of the Orlando airport Hyatt hotel: "When we are on the property, don't make fun of the residents, or say things that can get us in trouble or offend anyone. I once had a bank come to a mobile home park and say in front of my manager, 'Only a white trash idiot would live in a trailer.'"


Then comes a second, more unexpected warning: "Now, guys, I've got to tell you this park, I believe, is a sex-offender park. Everyone in here is a sex offender. I could be wrong, we're going to find out, but I think that's the deal on this one. So stay together as a herd."


He's not wrong. Signs at the entrance to Lake Shore Village, on the north-eastern outskirts of Orlando, warn: "Adults only. No Children." The park is described on the owner's business cards as "sex offender housing" and a "habitat for offenders".


On the forecourt the owner, Lori Lee, tells Rolfe's students she dedicated the park to sex offenders 20 years ago – and hasn't looked back.

"We were a family park when we first started. [But] about 20 years ago, I couldn't get on the property because a drug dealer had separated from his girlfriend in the park across the street ... and there was a long line of cars because she was undercutting her boyfriend."


Lee, 70, says she was advised that if she took in sex offenders the drug dealers would leave. "So, I started taking in sex offenders, and I have a very clean property. Sex offenders are watched by the news media, the TV, the sheriff's department, probation, the department of corrections ... so when they are in there, the drug dealers and the other people don't like to be around."


Sex offenders have been good for Lee financially, with park occupancy running at "1,000%". She rents trailer pad spots for about $325 a month. The trailers are either owned by the tenant or rented from a third party. Many trailers are divided into three bedrooms, for which tenants are charged $500 a month per room.


Lee claims she was once offered $5m for Lake Shore Park, which is home to about 50 trailers.


"Last year I bought a park down the street, got rid of all the families, the drug dealers, the prostitutes, and brought in convicted felons. And then I bought the property across the way," she says. "Once you're into it and you're making money it's easy to say, 'One more, one more'."

She has her eyes on a fourth park, "but then I'm through. I'm 70 years old and I don't want to own any more".


Asked by an eager investor how regularly tenants leave her parks, Lee says: "When they die. [They] stay forever, they have no place to go."


Lee's strategy impresses Rolfe's students.

"I thought it was a brilliant idea, brilliant," says Mitch Huhem, who is looking to buy a trailer park with his wife, Deborah. "These people need a place to live, and they don't want to mess around.


"They've got to live somewhere, so you combine them in a certain place. They don't go out to hurt people. I think it's a community service, because if not they will be in your neighbourhood. Now they're all in one place, you can watch them all in one place. And they pay well and won't mess things up. I mean, why would you not? I think it's a brilliant idea."

'The rents do not go down'
David Santana and his family recently moved into a more upmarket Orlando trailer park after giving up on their dream of ever owning their own bricks and mortar home. "We ran into the community and talked to the property manager, and when we talked to him we fell in love with the place," he says. Photograph: Mae Ryan/the Guardian

Rolfe, who with his business partner Dave Reynolds owns about 160 parks across the midwest, is unsure about taking in sex offenders. But he is certain Lee could make even more money if she raised the rent.


"She could definitely raise the rent," he says, as the tour group gets back on the bus. "She's got a definite niche, but she is definitely under the Orlando rent; she might be under by $100 a month, maybe.

"Raising the rent is typically part of the day one purchase, because often the 'mom and pop' [previous, family-run owner of a park] has not raised the rent in years so it's far below market.

"[The rents] do not go down, that's one thing that's a safe bet in the trailer park world. Our rents do not go down.

"We traditionally raise our rents by an average of 10% a year or something like that, and it's pretty much true for the industry. Our world record [rent increase] went from $125 to $275 in one month."

Raising the rent is typically part of the day one purchase, because often the 'mom and pop' has not raised rent in years Frank Rolfe
Rolfe, who bought a pistol for personal security when he bought his first park, 20 years ago, says he sent a letter to every tenant at that park in Grapevine, Texas, telling them the rent was going to more than double but was still below the market rate of $325.

"If you don't like this or you think you can do better, here's a list of all the other parks in Grapevine and a list of the owners," he said in the letter. "Go ahead, call them if you want to move. How many customers do you think we lost? Zero. Where were they going to go?"
Rolfe, who started Mobile Home University seven years ago and now runs boot camps every couple months in cities across the country, tells his students they can easily increase the rent even at parks that are already charging market rates, because there is so much demand for affordable housing and local authorities are very reluctant to grant permission for new parks.

He quotes US government statistics showing that in 2013, 39% of Americans earned less than $20,000 – less than the government's poverty threshold income of $20,090 for a three-person household.
"That's huge. No one believes that number – people say: 'You're crazy, this is America, everyone is rich.' [Being on an income of $20,000 or less] means you have a budget of about $500 a month for your housing, but the average two-bedroom apartment is $1,109 a month. There's not a lot you can do."
Kenneth Staton, a 58-year-old, disabled tenant at a nearby (non-sex offender) trailer park, knows it.
"It's a profitable investment, but raising the rent is what hurts because people like myself, we're on a fixed income and we can only afford so much," he says, on the dirt road outside his trailer. "I'm on disability, and I go around and collect aluminium cans to see myself through a little bit."

Asked if he thinks he will see out his days in the trailer park, Staton says: "It kinda looks like it, unless I can find a house somewhere I can afford. I only get $830 a month; $500 goes for rent, about $95 goes for electric. It don't leave much to live on. Luckily, I get food stamps."

'There's more poor people every day'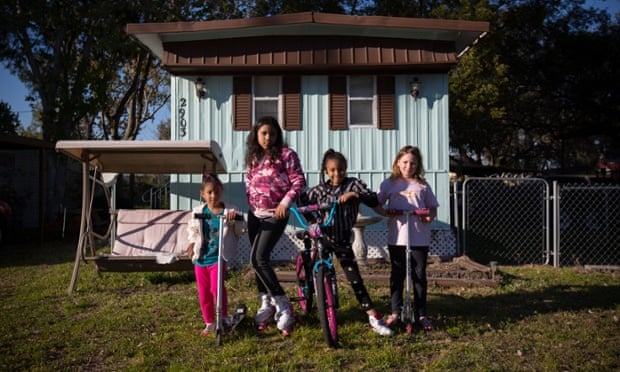 Santana's children, and their friends, say they much prefer playing in the trailer park to playing in the apartment they used to live in three blocks over. Currently more than 20m people, or 6% of the population, live in trailer parks, according to US census figures. Photograph: Mae Ryan/the Guardian

Back at the boot camp, Rolfe, who runs his empire from the tiny town of Cedaredge, Colorado, is in full swing.

"Today there's a huge number of poor people, and there's more poor people like every day," he says. "Some of our parks get 100 calls a week from people that are looking for a mobile home to rent."


He tells his students tenants are more likely to be encouraged to put in a few more hours at Walmart or other low-paying jobs than find the $3,000-$5,000 it costs to move their trailer – the majority of tenants own their trailers and rent the pad space beneath – to another park.


The students are sold on the idea. Thomas Hawcett, a navy veteran from Long Island, vows not to go home until he's found a park to buy.


"The first park I'm going to look at is a 279-pad park," he says, over a "team dinner" at Orlando's Bonefish Grill. "I won't tell you where. I'll spend a week, and if I have to spend another week I'll spend another week. I brought enough money that I can write a cheque and give a good deposit if I see one."

Taylor Boyd, who already owns a trailer park but has yet to step inside a trailer, says the economics of trailer parks are "compelling".
What's that thing? 'Sell to the masses, eat with the classes.' There's a lot more poor people than there are rich people Taylor Boyd
"What's that thing? 'Sell to the masses and eat with the classes'," he says, touting the inside of a dilapidated and mould-infested trailer in Overland Village, another Orlando trailer park owned by Lee. "There's a lot more poor people than there are rich people, and they're not making any more trailer parks."

Is he planning to follow Rolfe's advice and raise the rent? "If you're a landlord, you're going to raise the rent, but you've got to keep it low enough for the people to be able to afford to be there."

A few trailers over, Chuck Newton is sitting on the steps of his trailer, shooting the breeze with some friends as Boyd and the other students excitedly explore the park and plan their burgeoning business ideas.

If the investors were to buy this park and put up his rent, Newton, who collects disability payments of $700 a month and pays $550 a month in rent, fears he would be forced on to the street.
"I would have to find another low-rent place to move to," he says. "I would probably end up having to be homeless."
(3 images)