Title: NHS Hospitals Collapse, Doctors Playing Pass the Parcel With Patients Due to Alleged £300 Billion Fraud [oBamneycare UK-style]
Source: [None]
URL Source: http://www.marketoracle.co.uk/Article36502.html
Published: Sep 13, 2012
Author: Nadeem Walayat
Post Date: 2012-09-13 12:47:06 by Capitalist Eric
Keywords: None
Views: 382

The Royal College of Physicians reports that NHS Hospitals are in a state of collapse and patients are suffering as doctors play pass the parcel with patients between wards due to lack of operational beds despite a record amount of over £130 billion extorted from tax payers annually to fund the NHS black hole.
The RCP blames the crisis on a drop in the number of beds whilst demand has risen, this despite the fact that the NHS budget has more than tripled over the past 15 years as my earlier analysis illustrated .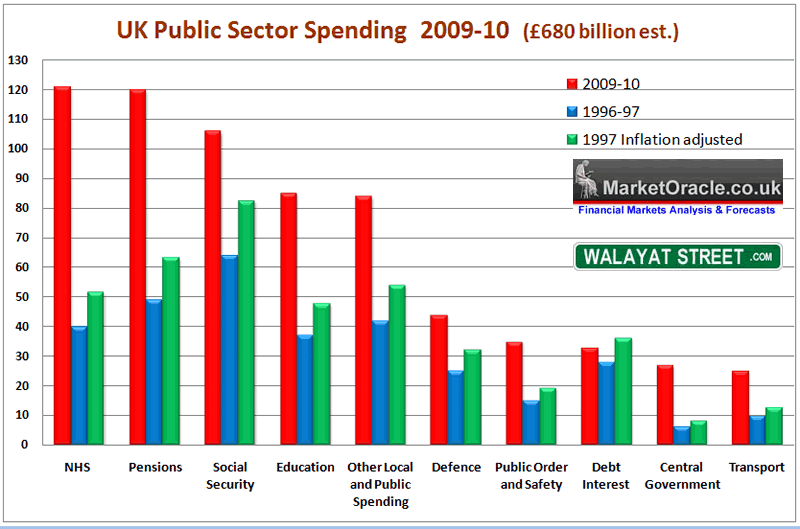 The NHS budget under Labour had grown from £40 billion in 1997 to £121 billion for 2009-2010. NHS budgets increasing in line with inflation (CPI) would have seen the budget rise to stand at £51.6 billion, and probably nearer £60 billion to allow for an ageing population. So the Labour government had in effect spent an extra £60 billion a year, in effect paying for two NHS's despite the public being in receipt of only one. The conservative government continued pouring monet into the NHS black hole albeit at a lower inflation rate of about 4%, which brings the NHS budget to now stand at over £130 billion per year.
So where has the money gone ?
For the answers to that we need only look at the pay of doctors, as illustrated by the Labour parties disastrous 2002-2003 GP contracts that sent annual GP pay rises soaring into the stratosphere, culminating in pay rises of more than 30% per annum, whilst GP's cut back on hours worked.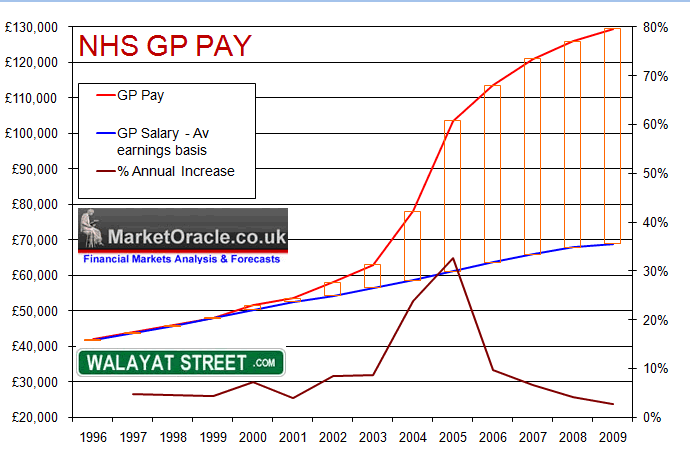 Similarly, the latest coalition government reforms for GP consortia to take control of the NHS commissioning budgets are also resulting in a similar disastrous outcome of worse service at far greater cost as the Channel 4 investigation revealed :
NHS GP Doctors Putting Profit Before Patient Care, Channel 4 News Investigation During 2011 a Channel 4 News investigation charged NHS Doctors with the subversion of the the coalitions governments NHS reforms to result in NHS doctors pocketing all of the cash saved as a consequence of the NHS reforms, which matches my own analysis of a year earlier that the Coalition Governments proposed reforms were fatally flawed in that they allowed GP's to profit from patient care.
"Your doctor making a profit out of your health care, your GP Sending you to a clinic that he or she owns shares in, we are seeing the biggest shake up of the NHS in its history, Channel 4 news can reveal tonight that there is nothing on the legislation currently before parliament to prevent the outcome no one wants, doctors putting profit before the care of patients, in our special report tonight we show how the new arrangements will create fundamental conflicts of interest potentially harming the trust at the very heart of the doctor patient relationship". Channel 4 News
Channel 4 News investigation key points:
Serious flaws in the Governments NHS reforms legislation, it's failure to protect patients against fundamental conflicts of interest, it allows GP's to put profit before patient care.
All of the monies saved will go into the pockets of NHS GP's and doctors.
GP's during patient consultations factoring in the profit they will make on their diagnoses.
GP's referrals on the basis of how much commission they will earn from the heath institution.
GP referrals to health clinics that the GP's own shares in.
New private health clinics being set up with a view to making profits so that they can floated onto the stock market at huge profit for share holding GP's GP's get access to dip their hands into the annual £80 billion pot of money meant for patient care.
GP's draw up the rules themselves on the conflict of interest, akin to writing 100 times, "I promise, I will not fiddle the patients"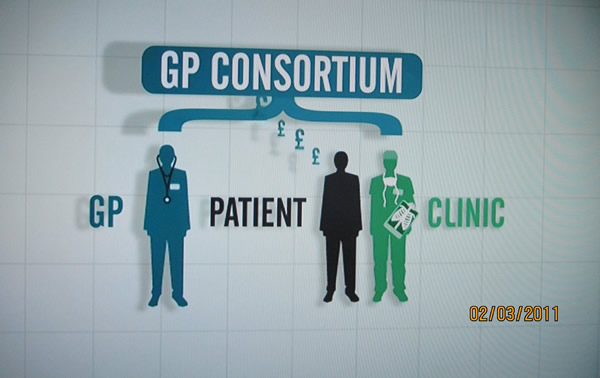 Under the previous Labour government patients were treated as credit cards to swipe in and out of door ways as fast as possible to maximise profits. Under the Coalition government patients will now become cash cows to milk to the fullest extent possible, what's best for the health of patients won't even factor into the thought process during GP consultations - "If I send Patient X to Clinic Y for Operation Z, my consortia will earn a commission of £2,000".
Sheffield NHS GP Consortia's Example
The city of Sheffield illustrates how the implementation of Coalition government reforms is proving to result in the exact opposite anti-competitive consortia's, as virtually all of the Sheffield NHS 92 GP Practices have signed up with one of of 4 geographically located GP Consortia's.
Central Sheffield Consortium HASC ( Hallam & South Consortium) North Sheffield Consortium for Health Sheffield West Consortium The NHS GP reforms being implemented are pushing towards the worst of both worlds, i.e. no market competition and unprecedented GP control over NHS funds that in significant part will be funneled into the back pockets of NHS GP's via Consortia profits being paid out as dividend to GP partners and eventual huge windfall profits as consortia's are floated onto the stock market.
Another example is the latest baldrick-esk cunning plan out of the NHS is for Britains best and brightest doctors and consultants to set-up 'NHS' hospitals abroad at huge tax payer expense to treat foreign patients under the illusion that this will generate profits that will be reinvested into the UK NHS. The new initiate amounts to Britain's best doctors being allowed to market their skills to foreign institutions with a view to being head hunted by foreign health service providers all at tax payers expense, and it is only those that foreign health services don't want that will return to NHS UK. The net result is for an officially sanctioned NHS brain drain that tax payers are funding, just as incompetent politicians in the past and present have already been duped by highly intelligent doctors into programme's that financially benefit GP's to the detriment of patient's as the above examples illustrate.
LIBOR Systemic Fraud Revelations Today NHS Systemic Fraud in the Future?
NHS history is littered with a string of initiatives that allegedly amount to fraud on par with that perpetuated by the banking sector on tax payers, as an estimated £50 billion of the £130 billion NHS budget is effectively being siphoned off. And as has been the case with the LIBOR scandal the mainstream press will only awake to systemic NHS fraud many, many years from now despite the fact that it is just as apparent in the financial data as LIBOR market manipulation fraud was as I first wrote about in April 2008 -
April 2008 - LIBOR Interbank Market Stays Frozen Despite Bank of England £50 Billion Bailout
Neither do the Bank of England and the Treasury recognise that the official BBA LIBOR rate is broken , i.e. that the reported rate is not reflective of the true level of crisis as the reporting Banks are reluctant to announce the degree to which the banks are unable to function due to the continuing deleveraging of the huge $500 trillion derivatives market.
Similarly evidence of alleged NHS fraud has been apparent since at least 2003, instead the mass of the mainstream media continues to be duped into believing that the problem is lack of government funding rather than outright fraud. So my forecast is that many, many years from now the big story that will run in the mainstream press for many months will be focused on NHS systemic fraud, where detailed evidence will be presented on how the tax payers were defrauded in total out of at least £300 billion between 2002 to 2012 and that this alleged fraud continues at the rate of about £50 billion per year.
Today's report of Doctors playing pass the parcel with patients illustrates the real game being played is one of killing off patients so that NHS funds do not have to be spent on patients, because this is what happens when weak elderly patients (that comprise 2/3rds of NHS patients) are moved around several times a night ending up in wards where the nursing staff do not know exactly what the patients condition is and how best to treat them, therefore increasing the risk of premature deaths. We will only find out many years from now following public inquiries as was conducted at Mid Staffordshire NHS trust, how many thousands of patients are dying right now as doctors play pass the parcel with patients.
Telegraph - 19th March 2010
Up to 1,200 patients are thought to have died unnecessarily at the trust between 2005 and 2008.
A damning report on the deaths found chronic staff shortages, receptionists in casualty departments assessing the urgency of cases and nurses switching off equipment that did not know how to use.
Both trusts are "Foundation Trusts" a status supposedly awarded to only the best in the NHS.
---
Poster Comment:
Doctors manipulating the system to enrich themselves... at the expense of the public (and the health of their own patients)!
Coming soon, to a hospital near you!!!
(3 images)